TelWare's hosted web conferencing is getting an upgrade. The latest release is packed with new features that will make your web-conferencing experience effortless and seamless. A whole new world of options is being offered, from screenshots to new multimedia settings to remote-control improvements. Below are the features to be on the lookout for:
Multimedia Settings Panel:
A new and improved multimedia settings panel has finally arrived—and its device-selection settings will make navigation easier than ever. Output devices, webcams, and microphones can now be interchangeable without resorting to outside sources. Additionally, users now have the option to increase or decrease both video and audio quality during a web conference by using the new quality-selector icons. A new feature called "sensitivity threshold" will also make sure that noise in the background under a specific threshold is not audible to web-meeting participants.
User-Interface Improvements:
Small enhancements can make a big difference. Our user interface now has a larger, easy-to-view participant chat panel with clearer icons and defined edges. You can see more chat participants at a glance and enjoy the upgraded view.
Screenshots: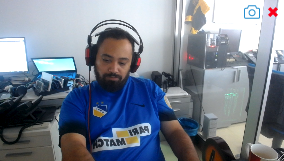 The new snapshot button in the top right-hand corner of a video chat lets you take quick screenshots without leaving the conference. These snapshots happen instantly and save directly to your computer, simplifying the steps for users.
Recording Presets and Record Confirmation Dialog:
There are now multiple options for recording. They can now be done in 480p, 720p, and 1080p video quality. Originally, 720p (HD) was the default option given, but as computers and devices advance, so do the quality options associated with them. Similarly, a lower quality option is available for users less interested in the screen.
Meeting Quality and Connection Reliability:
With the latest WebMeeting update, your connection can stay strong even in the harshest of networking conditions, providing the smoothest quality possible. Tests and scenarios of all types have been run to ensure a variety of situations will be covered. Thanks to this improvement, both users with minor and major networking issues should now notice an upgrade to their meeting performance.
Remote-Control Improvements:
As opposed to going intricate and complicated with the remote control of another user's computer, the remote-control function has been redesigned to be more user-friendly.
If your business would like to explore the benefits of TelWare-hosted web conferencing, contact TelWare at 1-800-637-3148 or
sales@telware.com
. TelWare is a national leader in the installation of voice, video, and data solutions.